With the help of Ehong module EH-VX01, equipped NXP chipset
Your smart device can be controled be Voice or your smart phone
Over view
EH-VX01 is a premium-tier and cost effective module with MCU-based AVS solution provides developers with a fully integrated, self-contained, software and hardware solution, that includes both the MCU and an NXP smart audio, amplifier with speaker protection.
It comes with all far-field audio processing algorithms including noise suppression, echo cancellation, beamforming and barge-in capabilities, to enable use in acoustically difficult environments.
Also included is the Amazon Alexa client application and a machine learning inference engine for Alexa wake word identification.
This easy to use AVS implementation ubiquitous voice control needs and eliminates need to deploy dedicated independent voice control, devices such as smart speakers or smart displays.
Support extrenal speaker, mic, led light and button as diffierent product design.
Applications
•Smart switches, lighting, shade, and fan controls
•Smart plugs and outlets
•Smart appliances
•Industrial automation
Block Diagram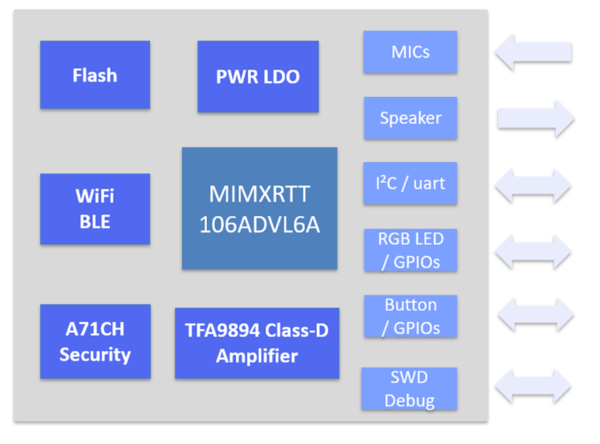 EH-VX01 Specifications