Product Overview

EH-ES201 is a low-power Bluetooth® 5 module. With ultra-small size and powerful features.Powered by a highly efficient 64MHz 32-bit ARM® Cortex ™ M4 CPU and 192 KBFlash + 24 KB RAM.
EH-ES201comes with a high-performance built-in antenna, which can connect up to 60m inan open environment. No external antenna is needed, and the ultra-small size of 7.0 * 7.0 * 1.4mm can reduce the PCB area requirements of customers' productsand help customers realize ultra-small products. At the same time, the ES201module can optionally support external antennas to meet customer requirementsfor antenna performance and layout in different occasions.
After purchasing EH-ES201, we will provide freetechnical support for the APP of the IOS system or the APP of the Androidsystem.
Quick Specifications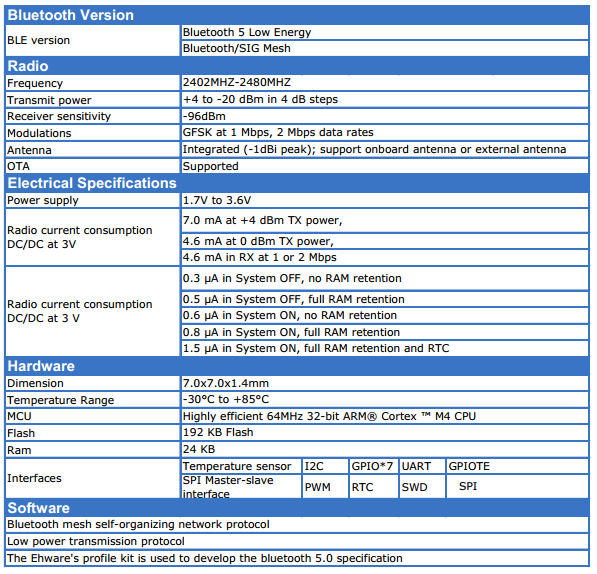 EH-ES201-EVK is designedbased on EH-ES201 module.
The development kitintegrates LED, reset button, IO interface, SWD. There are 7 IO ports.
It also has a richinterface and completeness to help customers easily complete productdevelopment and testing.