EH-MC10 Bluetooth low energy single mode module is a single mode device targeted for low power sensors and accessories. The module offer all Bluetooth low energy features:radio,stack,profiles and application,so no external provides flexible hardware interfaces to connect sensors,simple user interfaces or even displays directly to the module.

The module can be powered directly with a standard 3V coin cell batteries or pair of AAA batteries.In lowest power sleep mode it consumes only 600nA and will wake up in few hundred microseconds.
The latest SDK supports CSR mesh function, to be self-network, and then achieve more than 65,000 nodes control. In additional, the module also support master and slave mode, bypass transmit, Wechat communication protocol. Mainly it's used in intelligent hardware, medical equipment, industrial control, Beacon and so on:
EH-MC10 contains two kinds of version via different antenna interface:
the built ceramic antenna (EH-MC10)
extenral U.FL interface (EH-MC10B)
  Key Features                                  
Radio Feature:

Bluetooth Features:

Hardware Features:

Bluetooth 4.0 low energy radio

Transmit maximum power: +9 dBm

Receiver sensitivity: -92.5dBm

Integrated antenna

TX peak current: 18.2mA

RX peak current: 14.3mA

Dormant current: <600nA

Bluetooth Smart Support

L2CAP,ATT,GATT,GAP and Security

Bluetooth Smart Profiles

Slave and master mode

Up to 8connections in master mode

100Kbps + throughput

Over-the-Air firmware upgrade

UART host inferface

SPI,I2C,PWM,UART,GPIO peripheral

10-bit ADC IOs

Temperature range: -30℃ to +80℃

Dimensions: 17.7*11.95*2.2 mm

Power supply: 1.8- 3.6V

U.FL port

Software Features:

MCU Features:

Certification:

Ehware's host protocol

Embedded Ehware's Bluetooth Smart Stack

ATCMD for standalone applications

Ehware's profile toolkit for developing Bluetooth Smart profile

8051 microcontroller

256kB or 512kB E2PROM












  Development Kit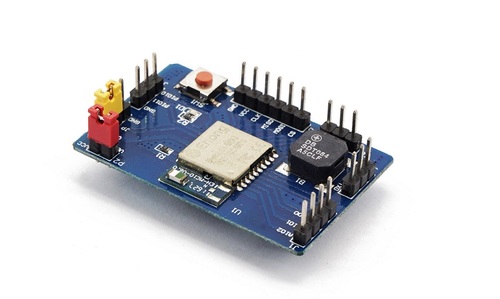 EH-MEVK-MC10-002 is the development evaluation board, providing the complete interface features of EH-MC10.
The Quick Start Guide guides you to launch and run the modules within minutes to test and evaluate the modules' performance.
More data, please click: EH-MEVK-MC10-002。