EH-MC16 Bluetooth® low energy single mode module is a single mode device targeted for low power sensors and accessories.

The module offers all Bluetooth® low energy features v4.2: radio, stack, profiles and application space for customer applications, so no external processor is needed. The module also provides flexible hardware interfaces to connect sensors, simple user interfaces or even displays directly to the module.

The MC16 module can be powered directly with a standard 3V coin cell batteries or pair of AAA
batteries. In lowest power sleep mode it consumes only 1.6uA(no RAM retention and external interrupts enabled) and will wake up in few hundred microseconds.

After buying Bluetooth® module, we provide free technical support APP of iOS system or APP Android system

  Key Features                                 
Radio Feature:

Bluetooth Features:

Hardware Features:

Bluetooth ® V4.2 single mode

TX power: +8dB

RX Sensitivity: -97dB

Internal integrated antenna

Peak TX current: 15.6mA

RX peak current: 14.6mA

Sleep mode current: <700nA

UART host interface

2 channel analog I/O (10bit ADC)

Operating temperature range: to -40 ° C to 105 ° C

Package size: 19.6x 14.5x 2.2mm

Operating voltage: 1.8-3.6v




Software Features:

MCU Features:

Certification:

STmesh self-organizing network protocol

Low power transmission protocol

The Ehware's profile kit is used to develop the bluetooth 4.2 specification









  Developmen Kit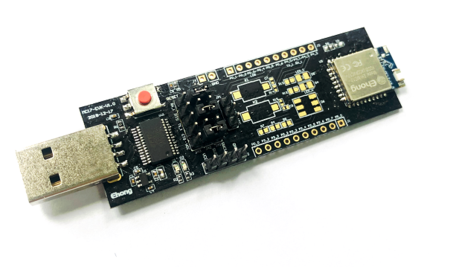 The EH-MC16 EVK development evaluation board provides a complete MC16 module interface feature, and the quick use of the manual guide allows you to start running and running the module in a few minutes to test and evaluate product performance.